August 2010 Update!! First of all, the news from Lisa is fantastic! She's cancer free and her girls are both happy and healthy. Ron has found a less physically demanding job in night time security. Yay for good news!
It's been over 6 months now that I've been running this fundraiser, and I'm so thankful to all the people who have bought hats and donated money. I've raised $400 so far, which is wonderful, as we know the bills don't go away just because the disease has. My original goal was $1000, so I'm going to keep going and keep listing hats. Please check out the hat listings, which now include hats generously donated by a friend.
Read on for the backstory I originally posted at the end of last year.
Hi! Thank you for visiting the official Hats for Lisa fundraising web page. This site is just me and some friends trying to raise money for my sister-in-law Lisa and her family, since she's had a crazy hard time the past year and a half. Read on for her story. Or go to the hat listings if you just want to help out and get yourself a super-cool hat at the same time. :)
In May 2008, Lisa was diagnosed with breast cancer. What would be a challenging time for anyone was made worse by the fact that Lisa was mothering her 1 year old daughter, was 3 months pregnant with her second child, and was immobilized by a herniated disc in her back.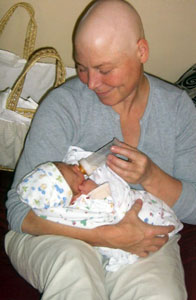 Lisa's husband, Ron, a self-employed house sider, only got paid for days actually worked. Balancing the need to earn money with the need to be there for Lisa during her surgeries (mastectomy and disc repair), chemotherapy and pregnancy was very stressful.
Thankfully Lisa and new daughter Rosa came through chemo as well as possible. Things were looking up as Lisa started radiation treatment. Then additional disaster struck when Ron fell off the roof of a house he was working on and he shattered his heel. No longer able to work, he's been on disability since November, and now he's retraining for a job that doesn't require manual labor. He's hoping, though, that his leg might heal enough to allow him to return to siding in the future.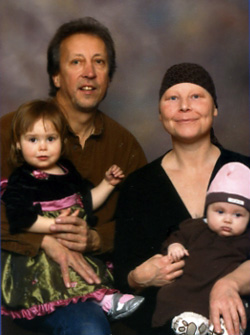 Lisa now feels healthy enough to work part-time at a local coffee shop, but it's clearly not enough to get them out from under the debt they've accumulated in the past year.
That's where this site comes in. I wanted to help, and what I know is knitting. And I've got friends who knit and want to help as well. So we've been working away, knitting hats to auction off, with all proceeds going to help out Lisa, Ron, Lilah and Rosa.
Click here to see the hats available.